ADI Part 3 Test
The object of this test is to assess the quality of your instruction and your ability to pass your knowledge on to pupils.
*From 2nd October 2017 the format of the test will change.
The DVSA will moving to a competence-based assessment.
You will be assessed over a single one-hour lesson on the 3 main competencies of:
lesson planning
risk management
teaching and learning strategies.
You'll also be assessed on an additional 17 sub-competencies.
There'll be no more role play by a DVSA examiner - trainee instructors must provide a 'real' pupil. This could be a friend, family member or colleague if you're not teaching any learners.
The lesson will have to reflect the learning goals and needs of your pupil.
ADI Part 3 training with ONEWAY
The training and preparation for this part of the course is carried out in-car, on a one to one basis.
Whether you are training for the old 'role-play' test or the new competency based test I will cover all the topics required for teaching a 'real learner' to drive as well as showing you strategies on how to deal with:
Beginners
Partly trained learners
Trained learners
Newly qualified learners
Experienced drivers
I will also ensure that you are equipped with teaching styles that stay with you throughout your career and help you to teach successfully in the real world.
One to one in-car training only
Clear and concise training
Client-centred to match your learning style
Training fees:
1hr - £38.50
1.5hr - £55.00
2hrs - £70.00
Half day - £105.00
Full day - £205.00 (includes a light lunch)
If you'd like more information or to book a training session -
Registering as an Approved Driving Instructor
After you pass the Part 3 test you can apply to join the Register. You cannot give paid instruction unless you are registered, unless you still have a valid trainee licence.
You must apply within your one year of passing your Part 3 test or your qualification will become invalid and you would have to apply to start the qualifying process again.
Interested?
For more information about becoming a Driving Instructor…
Call ONEWAY Instructor & Driver Training on – 07967 302 667
Or Email info@onewaytraining.com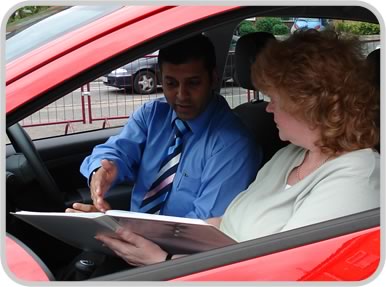 "Just like to say thanks alot for all your help, support and guidance...
I would never have done it without you.
I have passed your details on to a few people in my area who are interested in becoming an ADI.
I passed on my second attempt on the 19th February 2014 and that was all due to your excellent support and guidance.
I will definately be in touch for my Check test training."