The ADI Standards Check The 'new' Check test
Do you have a Standards Check coming up?
Or have you failed your Standards Check?

I can help you.
Here are some common reasons for failure:
Not conducting a 'client centred' lesson
Not adapting the Lesson Plan
Poor Risk Management
Not offering suitable Teaching & Learning strategies
I can show you practical teaching solutions to help you put the seventeen competencies into practice.
What next?
Call me on 07967 302 667 or email info@onewaytraining.com today!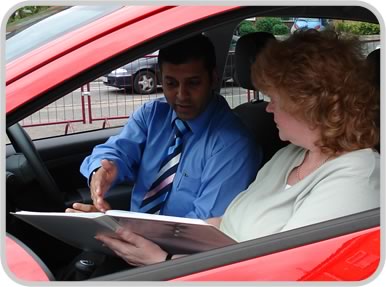 Book an assessment session
ideally with a learner/driver that you intend to take (any learner would do but it would be an advantage to bring the candidate you are thinking of taking).
This has three benefits:
I can watch you teach and analyse how you are putting the seventeen competencies into practice.
You will get used to teaching with somebody in the back of your vehicle watching your every move
The learner will also get used to having someone in the back. (Many Check Tests and Standards Checks have been failed because the learner 'wasn't himself / herself' Ė it's human nature to feel pressured in a test situation even when it's not your test!).
After the initial assessment has been carried out a 'follow-up' session can be booked (if needed) to help you to improve on any aspects of your teaching style that need improvement.
This session would be a one to one session where I would use role-play to help you.
If you're travelling a long way for the training or if it's not possible to bring a learner I can still show you how to make changes to your normal lesson structure by using constructive role-play scenarios.
The 'Assessment Session' and 'Follow-Up' would need to be a minimum of 1.5 hours each
1. Overview
The approved driving instructor (ADI) standards check replaced the ADI check test on 7 April 2014.
The ADI standards check assesses your ability to teach pupils. You have to take at least 1 ADI standards check during each 4-year period that youíre registered as an ADI.
You have to take a standards check even if you donít have a car or arenít working as an ADI.
You can only take standards checks in English or Welsh.
When to take your standards check
Youíll get a letter from the Driver and Vehicle Standards Agency asking you to go for your standards check. It will say when and where to go.
There is no additional fee for a standards check.
You can be removed from the ADI register if you keep missing your standards check.
2. What to take to your standards check
You must take:
your approved driving instructor (ADI) registration certificate
a car that meets the requirements
a pupil
Your pupil canít be an ADI or someone who has passed the ADI part 2 test. They can be a learner or a full licence holder.
Car requirements
The car you use for your check test must:
be roadworthy, safe and reliable, ie itís less than 3 years old or has a valid MOT certificate
have working rear seat belts
be fitted with L plates (or D plates in Wales) if your pupil is a learner
You canít use:
a soft-top convertible
a car with a 2+2 seating arrangement rather than full-size rear seats
Your test will be cancelled if your car doesnít meet the requirements. Another test will be booked for you.
You can be removed from the ADI register if you keep bringing a car that doesnít meet the requirements.
ADI standards check booking team
Telephone: 0300 200 1122
Monday to Friday, 8am to midday
3. What happens at the standards check?
A Driving and Vehicle Standards Agency examiner will watch you give a normal 1 hour driving lesson to your pupil.
The examiner will look for evidence that you meet the National standards for driver and rider training.
What youíll be marked on
Youíll be marked on 17 areas of competence that are grouped into 3 categories:
lesson planning
risk management
teaching and learning skills
The 17 areas of competence are listed in the ADI standards check form, which the examiner will fill in during your check.
Youíll get a score from 0 to 3 for each of the 17 competencies, which are added up to work out your grade.
After you give the lesson, the examiner will discuss your performance and give you your grade. This will take about 15 minutes.
You can take your trainer or mentor with you, but they canít take part in the lesson.
4. Your standards check grade
Youíll get your grade, along with your completed standards check format the end of your standards check.
| Total score | Grade | Description |
| --- | --- | --- |
| 0-30 | Fail | Your performance is unsatisfactory |
| 31-42 | Grade B | You'll stay on the approved driving instructors (ADI) register |
| 43-51 | Grade A | You have shown a high standard of instruction and you'll stay on the ADI register |
Youíll automatically fail if:
you get a score of 7 or less in the Ďrisk managementí category
the examiner stops the lesson because youíve put yourself or someone else in danger
If you fail the standards check
Youíll have 2 more attempts to pass the standards check.
If you fail 3 times:
youíll be removed from the approved driving instructors (ADI) register
youíll have to retake the ADI tests to join the ADI register again
(All information taken from the .Gov.uk website)